Yahoo SmartAds or Yahoo SmartAsses?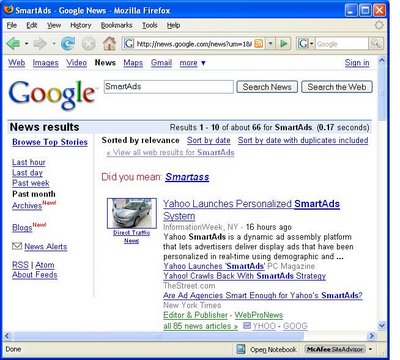 I was working on an article today on Yahoo SmartAds, which is the name given to Yahoo's latest attempt to make graphical display advertising (otherwise known as junky, irrelevant, low-rent banner ads) as smart as text-based search advertising. So naturally, I went to Google and typed in "SmartAds" and Google wisely served up the page you see above with the suggestion that I was looking for
Smartass
, not
SmartAds
.
I'm not cynical enough to believe that somebody at Google saw all that traffic coming to Google after Yahoo announced SmartAds last Sunday and manually added this snarky suggestion. I can only conclude that the Google algorithm is developing a wicked sense of humor!
I thought that Yahoo would dispense with any Google-style "smartass" SERP humor and give me the straight dope on SmartAds, so I went there and typed in "SmartAds." But the Yahoo SERP yielded no trace of Yahoo's SmartAds (although it included results for a Canadian design company called "SmartAds," a site called "SmartAds.info," and a site called "SmartAds.uk" (see screenshot below).
It turns out that the Smartasses at Yahoo had buried the SmartAds press release deep within the "About" area of Yahoo, a section that's evidently never been visited by Yahoo's search spider.
If this is cutting-edge technology, I'm a pretzel. (A tip for Yahoo - why not run an iddy biddy paid search ad for "SmartAds" on this SERP? It wouldn't cost you a dime to do so!)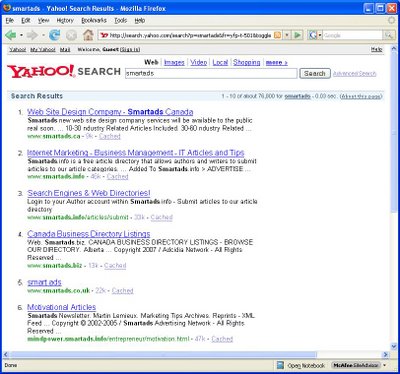 Labels: Advertising, Advertising Fiasco, Google, Yahoo