Steve Gilliard May Be Deleted From Wikipedia.org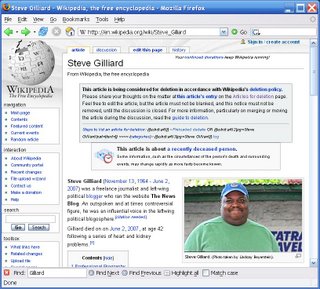 This one just makes me sad.
Steve Gilliard's Wikipedia
entry is being considered for deletion. His detractors insist that because he wrote for the Web, he isn't noteworthy enough to remain there.
Fear not, Steve, wherever you are. Your memory will live on here and on other sites whose admins know who you were. Those Wikipedia weenies can go to Hell.
(Update 6/5/07 5:48 PM EST: The "subject to deletion" notice has been removed from Steve's entry. Thanks to the Wikipedia gatekeepers for letting sanity prevail).
More on Steve Gilliard, including my memories of him and a list of articles he wrote for Netslaves.com,
here
.
Labels: Netslaves, Silicon Alley History, Steve Gilliard, Wikipedia