SciFi.com's Fiction Archive To Be Destroyed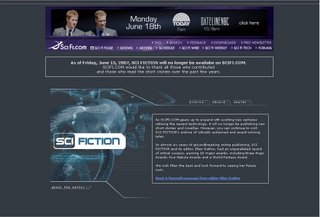 What happens to user-generated content when the company that hosts it decides that it no longer wants to host it? Well, it's destroyed, wiping out thousands of hours worth of collective effort.
The most brutal, unconscionable case of such destruction occurred in 2003, when C|Net, after acquiring MP3.com, unilaterally destroyed the collective work of thousands of musicians who had freely contributed material to this site. See
Crimes Against History: CNET, MP3.com to Destroy World's Largest MP3 Archive
, 11/23/2003.
This Friday, SciFi.com, a property owned by NBC Universal, will destroy its user-generated
Fiction Archive
. Currently, the archive contains material submitted by users as early as 2000.
The stupidity of this move astounds me. Some of these articles apparently have a ton of in-bound links, which benefits SciFi.com in terms of PageRank. I can only imagine the scenario, six months from now, when SciFi.com drops off the Google SERPS and an investigation is launched to find out who authorized this clueless move. Whoever did it will probably lose their job.
The lesson here is that you should never trust media companies to treat the material you send them with any respect. Keep local copies of everything you hold dear, or you'll wind up rueing the day. Properties change hands, people change their minds, and unless you actually control your data, you'll eventually get burned.
Thanks to
Joel Schlosberg
for bringing this imminent destruction to my attention.
Labels: Data Holocaust, SciFi Channel, Web History