Thanks to the Wall Street Journal For Linking to Ghost Sites' "Pathfinder Museum."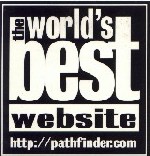 Thanks to Wall Street Journal reporter Jason Fry, who cites the Pathfinder Museum in
a thoughtful article
discussing how much the Web has changed since 1995, when corporate "top-down thinking" ruled the Web and it was possible to survive by merely "listening to voices inside one's own building."
It's nice to know that Time-Warner's epic disaster hasn't been completely forgotten.
We -- the despised diaspora of former Pathfinder/Time Inc. employees - salute those who cannot forget (for more on Pathfinder, please visit
The Pathfinder Museum
)!
Labels: Pathfinder, Time Inc., Time-Warner