DailySonic.com, Pioneering Podcasting Site, Falls Silent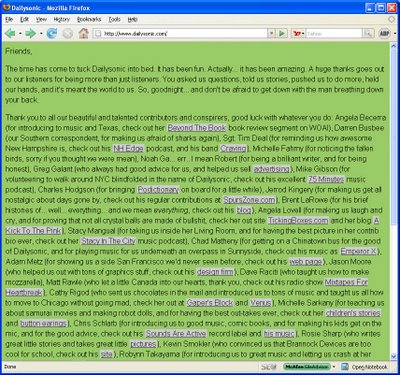 DailySonic.com
, "a free mp3zine / podcast for the hip-clectic crowd" has gone silent. Launched in early 2005, DailySonic uploaded device-agnostic MP3 files whose content was an NPR-like mix of news, narration, and licensed underground music content.
DailySonic's four New York-based founders, Aaron Taylor Waldman, Adam Varga, Anni Katz, and Isaac Dolom, didn't seem to care too much about whether DailySonic.com ever made money; they just wanted to do something cool on the Web, and it was precisely this quality that gave DailySonic purchase with its listeners. Unfortunately, the Web's very voraciousness augers against the pure of heart; the fun and cool can turn into a hellish grind in just a few months, unless of course, one can motivate people through fear or greed, which usually destroys friendships. Perhaps the four friends decided that they wouldn't let a Web site get between them.
Sadly, nothing remains of DailySonic's quirky podcasts, so it will be impossible for the world to know just how cool this site really was.
Labels: Silicon Alley History, Silicon Valley, Web 2.0, Web 2.0 Failures