Fate of ConservativeMatch.com Is Cautionary Tale For Online Dating Sites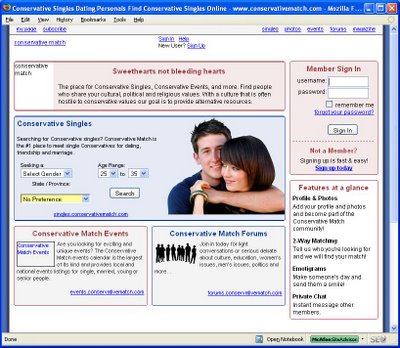 Many of us have horror tales of online dating that for obvious reasons we'd prefer to not share. A few have shared such horror stories anonymously, including M. Nevada's
truly horrifying tale posted some years ago at the defunct Netslaves.com
.
Mainstream dating sites such as Match.com are under fire from more specialized sites, which is clearly one reason why Match.com posted an anemic 1 percent subscriber growth rate in
IAC's most recent 10Q Quarterly Earnings report filed today
. But the advent of niche sites begs a larger question: why should people spend money to find people exactly like themselves? What could be more boring? For instance, consider the case of ConservativeMatch.com, whose tag line was "Sweethearts Not Bleeding Hearts." This site, which launched in 2003, ran out of steam in 2007. This isn't a Left vs. Right issue; a site for liberals launched by the same company, ActForLove.com,
appears from its SiteMeter report to be drifting along with fewer daily visitors than Ghost Sites
.
I can't imagine a more wrong-headed idea than an ideologically-based dating site. Some of the nastiest people I know share my political and religious convictions. Some of the most interesting have positions diametrically opposed to my own. Politics may make for strange bedfellows, but it rarely makes for happy ones.
You can examine more achival screens for conservativematch.com
at the Internet Archive
.
Labels: ConservativeMatch.com, Dating Sites, IAC, Match.com