BrightSpot.TV Sleeps With the Fishes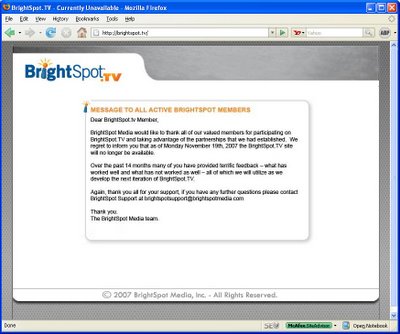 When the history of our era is written by future historians, the story of
BrightSpot.tv
will be cited as an extreme example of the grasping-at-straws desperation into which the advertising industry had fallen by the first decade of the 21st Century.
BrightSpot.tv's idea was simple: to pay people to watch ads, a compensation scheme that had never been necessary before in the good old analog media days, when advertising was hard to avoid. Aimed at low-income teenage males, the thinking seems to have been that such people would flock to Bright.tv, gorge on ads, and be happy with the crumbs thrown at them in exchange.
Nobody seems to have asked the obvious question: why would advertisers be interested in foisting their brands to such low-income losers? Unfortunately, with so few advertisers willing to come forward with big bucks, Bright.tv's viewers never earned enough money to justify the annoyance of watching the ads, so the site's already shaky value proposition quickly became openly risible.
Interestingly, BrightSpot.tv wasn't hatched in a typical Silicon Valley marijuana den, but in the heartland of jocks. Its backers included Jerry Coangelo, of the Pheonix Suns, Jerry Reinsdorf of the Chicago White Sox, and other midwesterners, who ponied up millions to fund this clunker.
Labels: Advertising, Advertising Fiasco, Brand Advertising, Web 2.0