Pioneering Silicon Alley Games Developer Hyperspace Cowgirls Site Lies in Ruins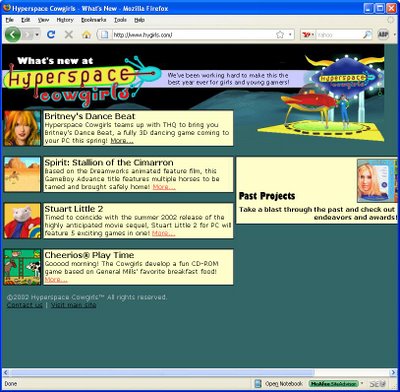 Before there were Web developers, there were CD-ROM developers, and New York's Silicon Alley was host to plenty of them, perhaps the most important being Voyager, which failed way back in 1997. Hyperspace Cowgirls (whose name was hatched in a dream experienced by its founder, Susan Shaw) was a project that had more success, but it foundered in the wake of the near complete destruction of New York's technology industry in 2000-01, and ceased operations in 2002.
The Hyperspace Cowgirls site (
hygirls.com
) is interesting to poke around in especially in its unlinked
News area
, which provides valuable insight into the star-crossed history of New York's Silicon Alley.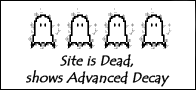 Four Ghosties (Site is Dead, shows Advanced Decay)
Very few sites lying in a state of advanced decay ever come back. "Advanced Decay" usually indicates a lot of broken links, possibly some broken applications, and a "Last Updated" sign from many months ago.
Labels: CD-ROM, Silicon Alley History, Sites that are Dead and Show Advanced Decay