WWWAC.org is Dead (Does Anybody in NY Still Care?)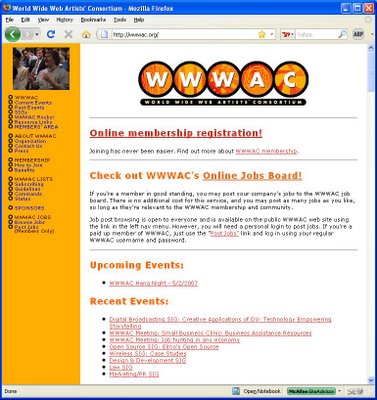 It's impossible to tell the story of Silicon Alley without mentioning WWWAC (the World Wide Web Artists' Consortium), whose most influential instantiation was its popular mailing list. Back in the 1990's, it seemed everybody who could hack an HTML page belonged to the WWWAC list. Spectacular flame wars were started there, jobs were offered and gotten, technologies and individuals were hyped beyond belief, and misery was shared when New York's nascent technology industry melted down into wax after the boom busted in 2000. WWWAC also did its part to create a "scene" through its many CyberSuds parties in the same way
Courtney Pulitzer sought to
.
Today, New York is in the midst of a modest technology industry comeback. Google and Yahoo both have offices in Manhattan from which are hatched plans to capture media spend from the old line advertising agencies. Employment has withstood the worst of today's cutbacks, which have fallen heavier on the financial industry than tech.
Unfortunately, the WWWAC site doesn't reflect New York's revived tech economy. It lingers like a sullen ghost, with its Online Jobs Board empty, and its most recent "upcoming event" listing dating from more than a year ago. You can almost see the tumbleweeds blowing through the other ruined areas of this site, all of which are in advanced states of bitrot.
Are you interested in the history of Silicon Alley?
Fred Wilson
was influential in Manhattan's tech industry evolution. He has spokeon the subject candidly in the past, and in September must deliver a 25 minute speech summing up key events in the evolution of New York's high-tech industry that spans the early experimental years, the bust, and the future. Fred's Wiki (
The New York Internet Industry Brainstorm WIKI
) is open to all who have stories to add.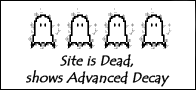 Four Ghosties (Site is Dead, shows Advanced Decay)
Very few sites lying in a state of advanced decay ever come back. "Advanced Decay" usually indicates a lot of broken links, possibly some broken applications, and a "Last Updated" sign from many months ago.
Labels: Ghostie Awards, Google, Silicon Alley History, WWWAC, Yahoo