InfoSpace.com, The Lookup Portal That Nobody Used, Now Goes to Verizon Property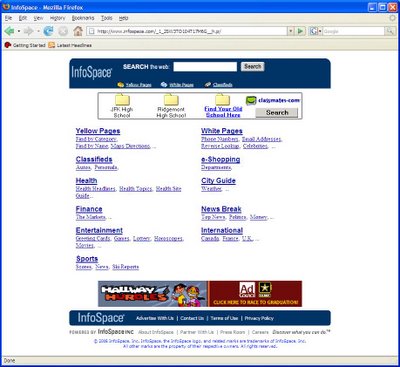 Interesting story in the New York Times about Infospace
, a formerly high-flying Silicon Alley wunderkind once valued at $31 billion. While Infospace is still in the meta-search business (Dogpile.com), only the shedding of assets, including its once popular infospace.com lookup portal, is the only thing keeping it profitable today.
Today, if you go to infospace.com, you'll find yourself at SuperPages.com, which belongs to Verizon, which recently bought the property from Infospace. But there are still a couple of domains around that haven't been moved over (yet); one of them is
http://www.infospace.com/_1_2SW3TO104T17M6G__h.p/
. Here you can see the way InfoSpace.com looked in its pre-sale prime.
Labels: Infospace, Search Engines, Web 1.0 Failures