Conde Nast's Flip.com Flops, Will Be Downgraded to Widget Status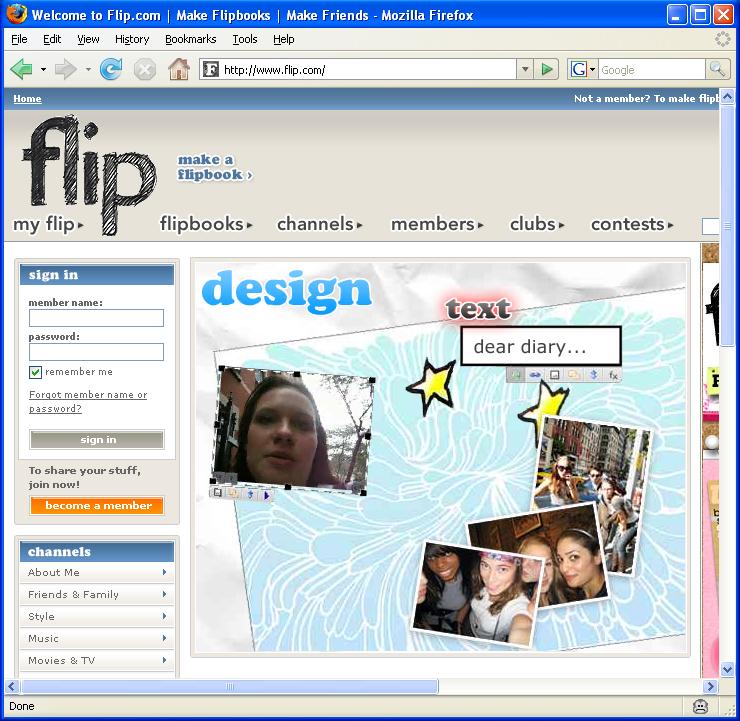 Flip.com
was an elaborate social network for girls created by CondeNet, the digital arm of Old Media powerhouse Conde Nast. Its beta launch in late 2006 was for girls only, but it allowed those of the male persuasion in when it officially opened in early 2007.
Flip.com used an attractive scrapbook-like interface for its members to express their thoughts. Reviewers judged its feature set well-executed, and naturally, CondeNast brought out all the big PR guns to promote it, resulting in ample coverage in Old Media outlets such as the Wall Street Journal.
Unfortunately, Flip.com flopped when it came to attracting enough traffic to justify CondeNet's investment in it. In fact, according to Alexa, Flip.com's current rank of 75,513 made it less popular than disobey.com, the site you're reading now. So it was inevitable that the plug would be pulled, and it was last week, when it was announced that Flip.com would be downgraded from a Website to a mere application that would parasitically attach itself to Myspace.com and Facebook.com.
Flip joins recent social networking casualty
MingleNow.com
(bankrolled by Yahoo) as the latest high-stakes social networking catastrophe. Others will surely follow suit as consolidation in the social networking space continues throughout 2008.
Labels: Old Media, Social Networking, Web 2.0 Failures