CourtTVNews.com To Go Dark Jan 1, 2008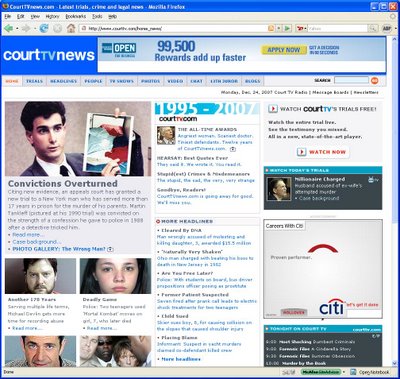 CourtTVNews.com, which for 12 years provided a vigorous Web-based companion site to the CourtTV network, will close on January 1, 2008, victim of a rebranding by Time Warner, the network's new owner, that will morph CourtTV into the more reality-themed "truTV."
A
farewell note from CourtTVNews.com's Editor in Chief Jim Lyons
provides a good summary of CourtTVNews.com's milestones. His note suggests that the site will remain "in frozen form" for the benefit of future historians of crime, media, and culture.
Among the more interesting revelations in Lyons' note is the somewhat ghoulish revelation that the site's
photo gallery of the last words of condemned Death Row inmates
was one of its most popular features.
Labels: Time-Warner, Web 1.0