There Goes the Neighborhood (National Neighborhood Coalition Is "Dying in ICU")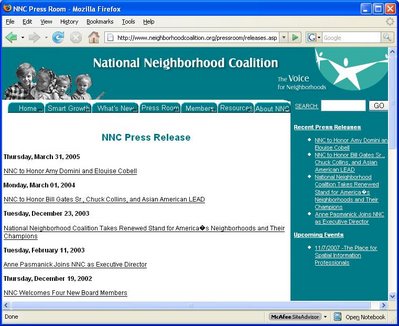 The National Neighborhood Coalition, at the domain
neighborhoodcoalition.org
, is a well-meaning non-profit organization whose purpose is to provide a platform to advocate the interests of those living in America's many low-income neighborhoods. It receives funding from the Annie E. Casey Foundation, the Fannie Mae Foundation, Federal Home Loan Banks, the Melville Charitable Trust, and Home Depot.
So this is no crazy/flaky dotcom, but it does seem to be an extremely rusty/dusty dot-org. Its
home page
invites its members to take part in a conference that happened way back in April of 2006. Its
most recent press releases
are from March of 2005. Its "
Issues Updates
" page is equally moldy.
If the National Neighborhood Coalition really wants to enlist people to help clean up America's blighted areas, it really ought to spend an afternoon improving its own ramshackle Web presence.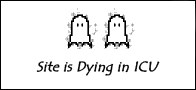 Two Ghosties (Site is Dying in ICU)
Two Ghosties mean that the prognosis for the site isn't so good. Experts have examined it and shaken at its prospects. Revival is possible, but unlikely. I don't issue many "Dying in ICU" awards, because few sites spend much time there on their way out.
Labels: Ghostie Awards, Sites Dying in ICU