VibeVixen.com May Live on as Virtual Successor to Closed Magazine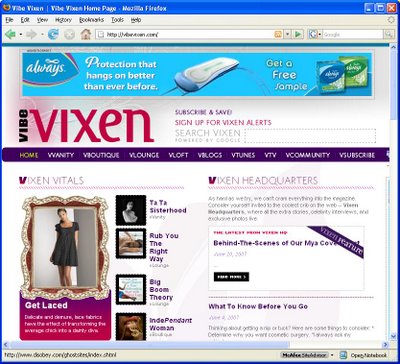 VibeVixen.com
is the online extension of Vibe Vixen, a spinoff of Vibe magazine that launched in early 2005 as a "girly version of what the ladies love about Vibe," according to its editor in chief. Interestingly, a "vixen" is formally defined either as "an ill-tempered or quarrelsome woman," or "a malicious woman with a fierce temper," but I somehow doubt that Vibe/Spinoff Ventures considered this when they came up with this title.
The magazine's launch, with 138 pages, only 50 of them containing ads, was unimpressive, and things seem not to have improved much in 2 years. This has been a bitter season for magazines, with closings at
Jane
,
Business 2.0
, and now Vibe Vixen. What's killing them? Well higher postal and paper costs, plus the fact that the brand advertisers they depend on are increasingly moving their ad dollars to targeted, Internet-based ad channels.
Note 7/25: I had originally slammed the Vibe Vixen Web Site as being badly out of date and filled with static content. But as I was informed by Vibe Vixen's Online Editor (who was really very nice about it), that's because I mistakenly linked to the wrong file
(vibevixen.com/vixen.html
). This happened because the correct file (
vibevixen.com/index.html
) doesn't currently appear in Google (which ranks vixen.html as being more relevant than index.html for some peculiar reason). Consequently, the real site isn't even displayed on the first or even the second page of Google's SERPs.
Unfortunately, I'm probably not the only person who's used Google to find Vibe Vixen and has been mistakenly routed to a static promotional page instead of the correct site. I informed Vibe Vixen's Editor that she needs to do something to correct this situation, because she's losing traffic (Google has more than a 50 percent share of query volume).
Will VibeVixen.com survive and thrive where its print counterpart failed? Perhaps so: according to the site's Editor, she's now enlisted a lineup of Bloggers who frequently post and she makes sure the content changes daily. Apparently, it's a lean and mean operation; she writes: "as an army of one, I've prided myself on the slow but steady development of Vixen's online destination and the fact that we've managed to maintain the site despite our non-existent budget."
Labels: Magazine Publishing, Vibe Vixen