BackFence.com Appears to Be Doomed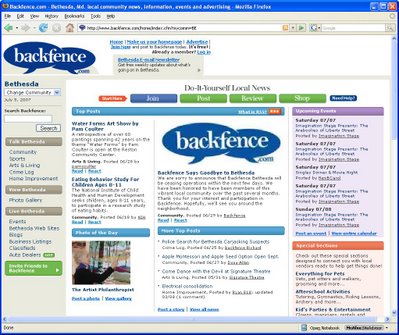 It's beginning to look a lot like 2000 again. From
ValleyWag
comes the news that
BackFence.com
, a site which got $3 million in funding from the
Omidyar Network
(formed by eBay Billionaire Pierre Omidyar), will close in a few weeks.
Backfence.com's mission statement was to "captures community knowledge and make it available to all—information you really can't get anywhere else." Horse nuggets: you can get all of that information from local search sites, local Blogs, and other local news searches. For example: I live in Brooklyn, and there are two or three good Blogs for every neighborhood. Do entrepreneurs really think that people don't know how to use search engines or click on Blogrolls?
Backfence.com may or may not be removed from the Web (its operators are still trying to come up with more money). But this begs the question: why launch something like BackFence.com when it's so clearly unnecessary? I'm not editorializing here: I'm looking at the Alexa numbers: Backfence.com never got beyond 232,634 in Traffic Rank. Ghost Sites and the other Disobey.com properties ranks 123,695, and nobody here has any money at all!
It's always been my theory that the vast majority of sites out there funded by VC money will fail because they're all doing the same thing. We don't need 200 search engines or 50 video sites or innumerable community aggregating sites. We live in a document-centric universe and search engines are the glue that make all of this accessible. Why reinvent the wheel, even if you have $3 million to do so? Haven't we learned anything in the past six years, or are we all doomed to wind up in
The Museum of Interactive Failure
?
Labels: Web 2.0 Failures