Can Bud.TV Be Saved?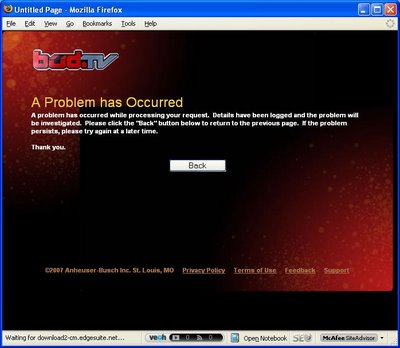 Bud TV could have been a contender. Backed by $30 million in development funds, it launched with great fanfare at the 2007 SuperBowl, and then
immediately started to sink
. Traffic dropped in April; in May, traffic is no longer even measurable by ComScore. Now we hear that
Anheuser-Busch has hired a new agency
to fix the thing, which means a few more millions of dollars dropped in the sudsy sewer.
Hey, A-B. I'll tell you how to fix your site, and it'll cost you a fraction of what your new agency will charge. Here goes:
1. Make your content accessible to search engines.
2. Ditch the crazy startup program that delays display of the home page for 30-seconds (on a frickin' T1 line)!
3. Yes, you've improved your registration, at least to the point that it understands that I'm a drinking-age male. Now can it entirely. If State AGs go after you, relocate the site to the Antilles Islands. Everybody else does!
4. Make it possible for people to embed your ever-so-groovy content on their humble web pages.
5. Fix your internal search engine (which yielded the depressing error message above when I searched for one of your cute spots: the one featuring the African Grey Parrot).
6. All the content I see on this site pertains to male bonding, bikinis, and ecosystem-wrecking muscle cars. True, a lot of beer drinkers are idiots but you don't have to insult those that aren't. (Hint: more parrots!)
7. There's no way to know which of the videos are new, which are old, or which are popular. Do you really think that people have unlimited time separating the good stuff from the dross?
8. Don't even bother to fix this thing. Everything about it is wrong (including the color scheme, which reminds me of a brothel). Build a new one from scratch: I guarantee that nobody will miss the old one.
9. I'm glad that you're thinking of making your content more "edgy." So open your content gateways to outside producers. There are plenty of hard-drinking young people on the planet, and I'm sure they'd appreciate the chance to add to your video inventory. Let's have some short clips on drinking games, hazing rituals, etc. (Note to your agency: don't be afraid of telling A-B to do any of this: whatever you tell them to do, face the fact that you're going to get fired -- I mean, this is the ad business: everybody gets fired, at least in the long run. So don't be afraid to go out with a bang!)
That is all. Please send $325,000 directly to my PayPal account.
Only kidding - I'm sure you can find a better use for this money.
Labels: Advertising Fiasco, Bud.TV