DotZine.Com, Last Updated in 2002, Wins "3 Ghosties" Award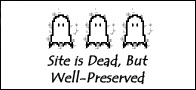 Dotzine.com
, located at the domain http://dotzine.com, was an attempt to publish a small-format magazine specifically for the Palm and Pocket PC mobile platforms. By producing "short articles and reviews by clinically-diagnosed attention deficit disorder victims," the hope was that the user would "laugh, cry, and think before those elevator doors open!"
DotZine.com was last updated in 2002, which might qualify it for inclusion for a 5 Ghostie Award, but it's so well-preserved that we're going to give it 3 Ghosties (Site is Dead But Well-Preserved). It looks as fresh as the day it was launched; even the
DotZine Pocket PC Emulator
(which launches a small window to show you how the content would look on a Palm) still works.
Labels: But Well-Preserved, Sites that are Dead