SunRocket.com: Premiere VOIP Provider Becomes a Ghost Site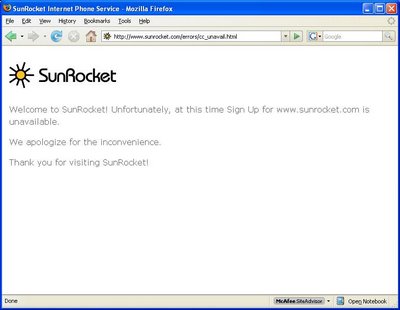 SunRocket, a VOIP provider located at the domain
SunRocket.com
which billed itself as the "no-gotcha phone company," began its ill-fated journey in late 2004, fueled with $9 million in financing from BlueRun Ventures and Anthem Capital Management; in September of 2005, it secured another $25 million from the same groups, plus money from the Mayfield Fund and DCM (Doll Capital Management). In August 2006, VC firms Varma, The Grosvener Funds and Bru Venture Capital added $33 million to its coffers, making for a total of $67 million.
SunRocket's low-cost residential VOIP services were instantly popular with customers sick of being reamed by traditional phone companies, and it quickly became the fastest-growing VOIP provider. Its services, which ranged upward from $9.95 per month to a $199 annual unlimited plan, got rave reviews in the press, and its customers seemed to have loved it. By early 2007, it had signed up 200,000 subscribers. But by July of 2007, it shut down its service, enraging thousands of people who had made advance payments of $200 for its yearly plan.
What went wrong? Well, SunRocket was a private company so the financials aren't public. But the whole thing seems fishy. Any company with 200,000 paying subscribers has or should have a good cash flow: to be conservative, let's assume that all of SunRocket's subscribers paid just the $9.95 monthly fee: that's $1.99 million a month income. Let's assume SunRocket had about 550 employees (500 worked at its St. Louis call center), and let's say that SunRocket paid the call center workers $3,000 per month: that's a monthly payroll of $1.5 million. Another 50 admins and execs, each earning $75K per year, would have made for a total monthly payroll of $1,812,500. Plus or minus a hundred thousand dollars here or there, SunRocket was covering its payroll costs with its monthly revenue.
Of course, SunRocket's monthly costs would have included a lot of other things: bandwidth, equipment and leases, insurance, etc. Assume these costs were equal to the monthly payroll costs of $1,812,500 and you have a grand monthly expense total of $3.625 million per month. Subtract Sunrocket's income and you have a net monthly loss of $1,635,000.
OK, that's bad, but SunRocket was adding a lot of paying customers. Another 150,000 or so would have established profitability. Given its existing rate of subscriber growth, this crossover point might have occured as early as Q4 2007. And with its $67 million war chest, SunRocket could have easily endured this rate of loss for at least two additional years. In other words, the company had or should have had the cash on hand to make it to the crossover point. (And again, the income assumptions I'm using were arrived at using the most conservative income levels; many SunRocket customers paid much more than $9.95 for the basic 200 minute plan.)
I'm at odds to understand how SunRocket could have gone so badly off course. Was it excessive spending on marketing? Sky-high executive salaries? Major unanticipated costs? Who was calling the shots here? SunRocket's management or the VCs? It boggles the mind.
Labels: Venture Capital, VOIP