Return of the Ghostie Awards!

Back in the early days of Ghost Sites, we had a scoring system based on the level of bit rot in any given site. It made sense because the degree that a site is considered to be "bitrotten" is a function of its periodicity. For example, a corporate media kit that's six months out of date really isn't out of date, whereas an online daily that's gone two weeks without an update is probably in serious trouble. The five levels of "ghostliness" were as follows: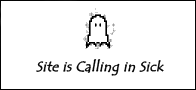 One Ghostie (Site is Calling in Sick)
This generally indicates that a site, while a bit out of date, has a fighting chance of pulling itself out of its comatose state. Many sites that have received the "Calling in Sick" award have come back. Frankly, Ghost Sites has "called in sick" more than a few times.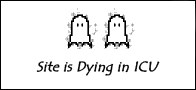 Two Ghosties (Site is Dying in ICU)
Two Ghosties mean that the prognosis for the site isn't so good. Experts have examined it and shaken at its prospects. Revival is possible, but unlikely. I don't issue many "Dying in ICU" awards, because few sites spend much time there on their way out.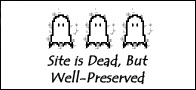 Three Ghosties (Site is Dead, But Well-Preserved)
I used to issue a lot of these rewards. Basically, the site's lights are still on, but nobody is home. Sometimes these sites come back, but I'd say more than half either vanished within a short time or began to suffer from serious bit rot, which can get very unpleasant.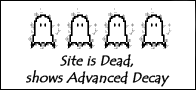 Four Ghosties (Site is Dead, shows Advanced Decay)
Very few sites lying in a state of advanced decay ever come back. "Advanced Decay" usually indicates a lot of broken links, possibly some broken applications, and a "Last Updated" sign from many months ago.
Five Ghosties (Site is Stuffed, Embalmed, and Ready for Internet Museum)
Getting one of these awards indicates that the site in question was updated so long ago that it's almost supernatural that it's still here. Any site that was last updated in the 20th Century instantly qualifies it for this prestigiously mordant award.
I'm bringing this scoring system back, because it's a pretty accurate way of judging cyber-decrepitude. So please welcome the return of the Ghostie Awards!
(Note: you are of course free to display a "Ghostie Award" on your own Web site if you believe that it is a repository of bit rot, but you should understand that doing so will probably nullify your award, because any updating will reduce your BQ (Bitrot Quotient), which the Ghostie Algorithm takes very seriously.)
Labels: Bitrot, Ghostie Awards, Web History