ReganBooks is Now a Ghost Site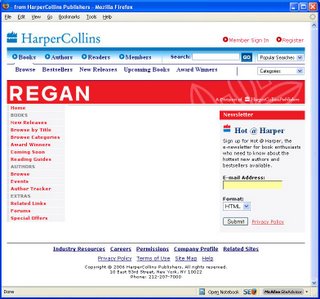 This week,
HarperCollins
scrapped its ReganBooks imprint in the wake of the over-the-top conduct of its former editor, Judith Regan. Consequently, it removed all links to ReganBooks from its main corporate site.
What's left behind is
this ghost site
. Just about everything is busted or missing, and this page will likely succumb soon as well. So now's the time to take a last, not so fond look at ReganBooks, the fecund source of so much subliterary sleaze.
Labels: Book Publishing, Old Media