PR Scandal Closes WalmartingAcrossAmerica.com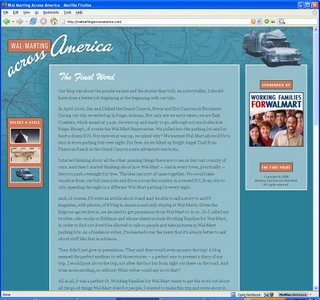 Wal-Marting Across America, a site launched and paid for by Working Families for Wal-Mart, was forced to cease updates last week, when news reports disclosed that Wal-Mart had hired Washington Post reporter James Thresher to produce photos for it.
According to
news reports
, "Wal-Mart outfitted the RV and turned it over to Thresher and his partner, Laura St. Claire, who drove it cross-country, staying overnight in Wal-Mart parking lots. Along the way, they posted favorable photographs and interviews of Wal-Mart shoppers and employees."
Thresher was disciplined by his boss, and agreed to stop taking money from Wal-Mart (the Washington Post's editorial policy forbids freelancing for interest groups). The whole crazy idea of launching this fake property was hatched, I'm told, by the big brains at
Edelmen
, which should have anticipated that their ruse would have been uncovered. The result is considerable tarnishing of the Wal-mart and Edelmen brands.
WalmartingAcrossAmerica.com was launched too recently to be archived at the Internet Archive. If you want to save this one for your Top 10 PR Disaster files, grab your screen shots now before Wal-mart, Edelmen, or Working Families for Walmart pulls the plug on this stinker.
Labels: Advertising Fiasco, Astroturfing, Edelman, Wal-Mart