Pathfinder.com: Home of Pop-up Hell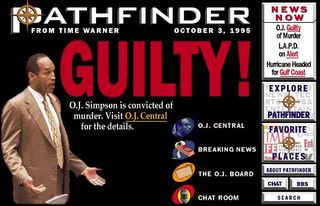 Imagine walking into a quiet graveyard in broad daylight and having all the graves open and the worst spirits you can imagine start grabbing at your legs. This is exactly the feeeling I got when I visited
Pathfinder.com
, the last living vestige of what ten years ago proudly called itself "The World's Best Web Site." The domain Pathfinder.com has served (for at least five years now) as a static pointer to the many world-class content brands maintained by Time Warner. But did you know that almost every one of these brands is now infested with pop-up ads of the sort that would immediately red-flag it as a "dangerous" site in McAfee?
All I can say is unless you love pop-ups, "don't go there!"
To learn more about Pathfinder, visit
The Pathfinder Museum
.
Labels: Old Media