The Wall Street Journal Honors Pathfinder (The World's Greatest Web Site)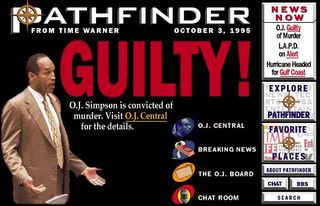 The Wall Street Journal ran a piece today
which mentioned Pathfinder (the site I used to work for and the subject of Ghost Sites'
Pathfinder Museum
(The Web's largest online repository of images, text, and other data related to Time-Warner's Pathfinder.com).
The somewhat bland article, by Matthew Karnitschnig, gets it mostly right: despite an early, once-in-a-lifetime chance to dominate Web content, Pathfinder was destroyed by internal dissension, behind-the-scenes sabotage by certain Time Inc. senior executives, and a near-total inability by senior management to see the potential of the World Wide Web.
The article, however, doesn't begin to capture the blood-on-the pavement, sex on the desktop, poison-pen-email-in-the-dead-of-night, industrial-quality alcohol-and Tulenal-fueled reality of life behind the scenes at The World's Greatest Web Site. Nor does it touch upon the smoldering hatred that one felt in the elevators from jealous old-media editors, the incredibly botched software executions, the smashed-up New Media lives whose downward trajectories paralleled the death of the site, Sick Building Syndrome, or Wiccanism, all of which contributed to Pathfinder's demise.
No, none of these things were ever written down. Only the mute objects in
The Pathfinder Museum
, plus a few tepid lines in a finanacial paper, are all that stand to remind history that Pathfinder, The World's Greatest Web site, was anything more than an apparition.
Labels: Old Media, Pathfinder, Time Inc.