Ten Years Ago: Netscape Navigator 2.0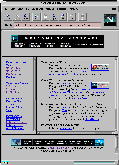 Can you believe that Netscape Navigator 2.0 -- the browser that brought the plague of frames to the Web -- is ten years old? Yes,
10 years ago this October
this amazing browser brought the swirling crowds at Unix Expo to a near standstill.
NS 2.0 was a spectacular success, but its money-making siblings, Navigator Gold (selling for a cool $79) and LiveWire (ranging in price between $500 and $1000) had less traction. But the real evil for the fledgling company was hidden 10 years ago, and its name was Microsoft, which would soon embark on a brilliantly coercive plan to kill the company which cumulated in a massive anti-trust suit, a wrist-slap, and long years of Microsoft domination of the browser market that would only be eroded by the emergence of Firefox in the last few years.
Alas -- poor Navigator 2.0 -- I knew ye well. Your elegant, albiet battleship grey visage would not be long for this poor world. But love you we did, back when the Web, and the world, was still young.