New Ghost Sites Acquisition: The Pathfinder Museum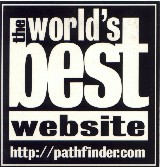 In a private transaction, Ghost Sites of the Web has acquired the collected exhibits and digital artifacts of the Geocities-based
Pathfinder Museum
for an undisclosed sum. The Pathfinder Museum's venerable collections of digital matter relating to Time-Warner's doomed mega-site, originally launched in early 2000, have been enormously enhanced by the donation of a scrapbook of staff photographs taken in the critical 1996-97 period, when the site was just beginning to disintegrate.
I am very proud to announce that many of
The Pathfinder Museum
's rare artifacts will be available for public inspection, at no cost, right here on Disobey.com. Over the weekend, our skeleton crew has been busy putting up a core of exhibits, and it is my hope that these will soon be augmented by more lost treasures from the bowels of what was once referred to as "the world's best Web site."
Steve Baldwin
Editor,
Ghost Sites of the Web
Labels: Old Media