Four Years And a Million Miles Ago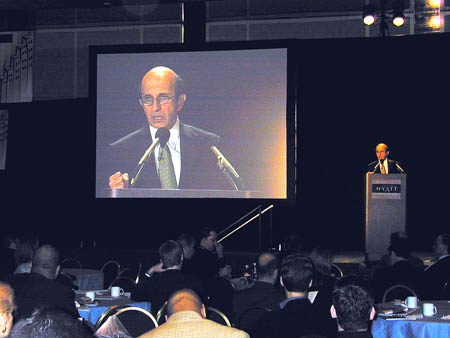 Back in May of 2001, I was given the job of creating
a Shockwave slide show for NYMNA.org
- the defunct New York New Media Association - using the photos taken at one of its "Venture Downtown" events. This event turned out to be the last one that NYMNA did, the last great gathering of technologists, venture capitalists, and Silicon Alley boosters.
This file quietly languished on a CD-ROM until today, when I came upon it by accident.
It is a bit haunting for me to
view these images
with four years' hindsight. Within four months, New York and the world generally would be transformed by cataclysmic events that would make the "dot-com catastrophe" seem like a very small thing, even though it ruined the lives of many people, some of whose images are doubtless captured within this train of images (if you look quickly, you can even see me there, all dressed up as an official person).
Witness then, the way the world was four years ago, in early 2001, when we were still venturesome, younger, flusher, more alive, more believing of the notion that technology would save us, make us rich, wiser, and somehow transform the world in a way that we thought would be good.
Today, New York finds itself in the midst of another irrationally exuberant financial bubble, and it's name is Real Estate. Like the Great Dotcom bubble, it's impossible to convince anyone that it will all end badly when they simply stare you in the face and say "Well, I'm doin' fine, buddy. If you're not, there must be something wrong with you."
Witness, then,
Venture Downtown 2001
, the last, great convocation of optimism in Silicon Alley -- four years and a million miles ago.