Ghosts of New York's Silicon Alley Live on at Silicon Alley Station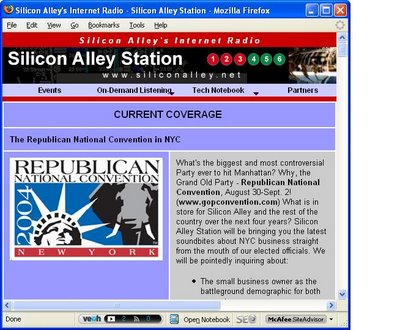 Silicon Alley Station
, an independent Web-based radio network whose beat was New York's technology sector, has not updated its content in almost three years.
This is sad, because SAS, in its day, provided high-quality, hype-free coverage of technology developments in New York in an appealing, free format that generally bettered the efforts of the deep-pocketed mainstream media. To my knowledge, no one is about to enter the vacuum left behind by SAS; a sure sign that as far as the Internet Rapture is concerned, New York is a city "left behind." Clicking through the SAS site is a surreal experience: a bit like discovering a long-buried railroad terminal with Pullman cars still on the tracks, waiting for passengers that will never arrive.
SAS and New York's technology scene might be dead, but the site's
streaming audio archives
live on, although it's likely only a matter of time before they too become inaccessible. Highlights include interviews with many former luminaries of New York's late 1990's technology scene, making it a virtual time capsule of Gotham City's high hopes, world-dominating dreams, and wackily star-crossed illusions of the late 1990's.
Labels: Pre-Google Internet, Silicon Alley History, Web History