A New Look at Pathfinder's "New Look"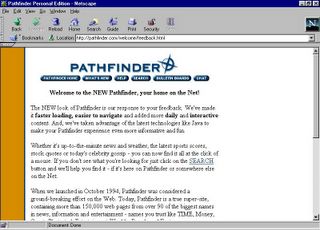 By 1996, Pathfinder's initial look and feel, established during the Walter Isaacson/Jim Kinsella/Craig Bromberg era, had begun to show more than a few cracks, especially after a crowd of demanding content partners - more than 80 - descended on Pathfinder with each demanding high-profile exposure on Pathfinder's home page. A few, notably People Magazine, were so unhappy with Pathfinder's rationing of home page space that they actually staged an attempted palace coup by attempting to launch their own domains, a move stopped only by the personal intervention of Walter Isaacson, and, it is rumored, Henry Kissinger.
When Kinsella was ousted in early 1996 (after ousting Bromberg in late 1995), a furious effort to redesign Pathfinder ensued to appease the content partners. This, plus the incredible demand from Paul Sagan, who succeeded Walter Isaacson as Pathfinder's commander, to launch a personalized news service, exerted enormous pressure on Pathfinder's staff.
While Personal Edition was a costly, disastrous failure, Pathfinder's "New Look" was a moderate success. The home page was faster loading, the "touts" (advertorial areas that directed users to Pathfinder's content partners) were fully automated (previously, they had been changed manually), and, at least for a while, Pathfinder's content partners, and even
Don Logan
, who had done his utmost to sink Pathfinderand the New Media division, were temporarily quiescent. In fact, the "New Look" was so successful that it remained Pathfinder's design until the site's shutdown in the Spring of 1998.
To many, "New Look" home page was a welcome departure from Pathfinder's earlier attempts, which tended toward being over-crowded, complicated, and often counter-intuitive. Note that this page provided a way for users to obtain free Pathfinder.com e-mail addresses, an enticement that was not taken up by many users but an indication of how much Pathfinder still wanted to be the "AOL of the Web."
Pathfinder Spotlight Page was a new feature intended to highlight timely content from a wide range of content partners.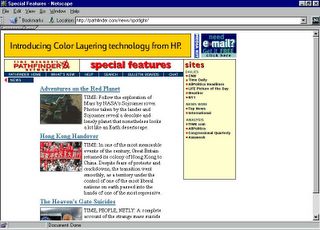 Another innovation of the "New Look" were "Special Features" pages intended to highlight timely content from content partners.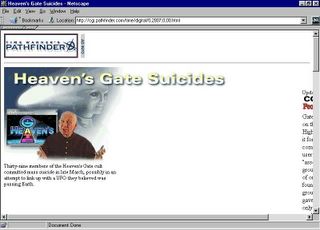 An example of a "Special Features" page.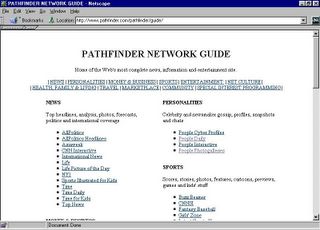 Screenshot: Pathfinder's Network Guide. This page shows the enormous number of content partners that Pathfinder was required to service by 1996.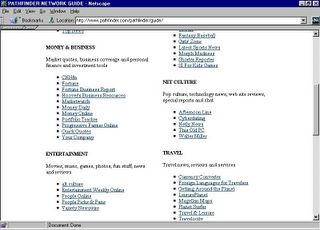 Screenshot: Pathfinder's Network Guide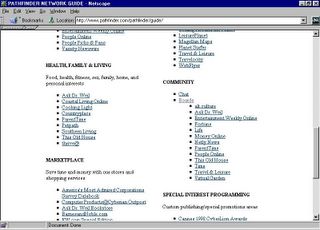 Screenshot: Pathfinder's Network Guide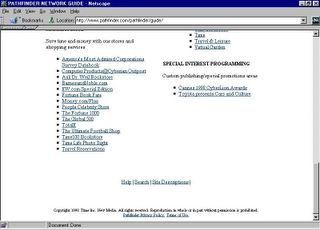 Screenshot: Pathfinder's Network Guide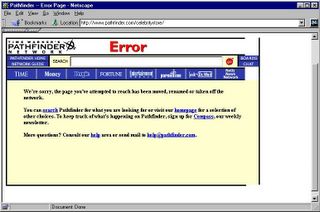 Pathfinder's "New Look" Error Page