SatireWire.com Celebrates Its 6th Year as a Well-Preserved Corpse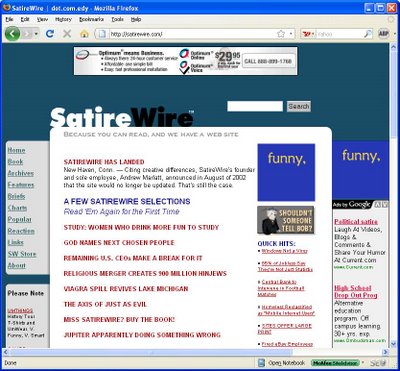 SatireWire.com
, a once wildly popular Web 1.0 humor site that ceased publication in 2002, continues to float in a state of suspended animation. Perhaps satire ages better than any known form of Web content; perhaps the Adsense listings running on Satirewire provide enough of an annuity to reward whoever wound up inheriting the domain; in any event, the domain's owners have reserved SatireWire.com through 2012, an optimistic bet that somebody will come forward with a plan to breathe life into a meme that was commodified a long time ago by the likes of 23/6.com, The Onion, and many many others.
Five Ghosties (Site is Stuffed, Embalmed, and Ready for Internet Museum)
Getting one of these awards indicates that the site in question was updated so long ago that it's almost supernatural that it's still here. Any site that was last updated in the 20th Century instantly qualifies it for this prestigiously mordant award.
Labels: Ghostie Awards, Humor Sites, SatireWire.com