GeekT.org is Dead, "Killed by Spammers"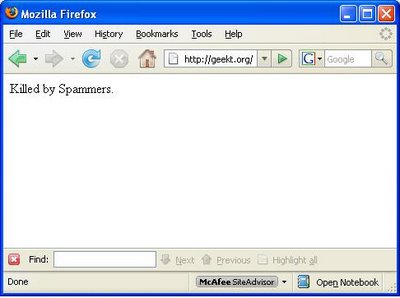 GeekT.org
, located at the domain http://www.geekt.org, was an interesting project which sought to chronicle the history of "geekdom" using T-shirts, mostly "schwag" giveaways from tradeshows such as Comdex. The site was great fun for those of us old enough to remember the golden age of Delrina, OS/2, Napster, and hundreds of other iconic Dead Tech Brands.
GeekT.org launched in early 2001, and the Internet Archive has done a good job of
archiving the site's old pages
. The site appears to have quit publising in September of 2006; today, if you go to the URL
www.geekt.org
, you will be greeted by a forlorn notice that the site was "Killed by Spammers." I'm not sure what this means except that it's often the case that spammers make webmasters life miserable by spamming up sites' comment sections (which is yet another reason never to allow comments on one's site).