Threadwatch.org Will Die This Friday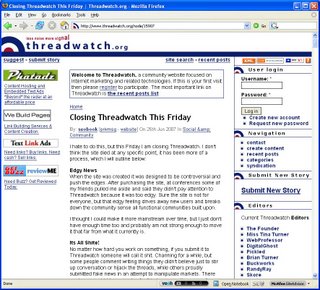 Popular SEO/SEM (Search Engine Optimization/Search Engine Marketing) site
Threadwatch.org
will die this Friday, according to Aaron Wall, who has run the site since 2004 and explains the reasons for this unexpected closure in
a lengthy explanatory note
.
Wall's reasons for closing Threadwatch.org include the fact that many of his best contributors are now running Blogs of their own, the fact that Threadwatch.org was often spammed, and the fact that he's now got a girlfriend, who is commanding a greater share of his time.
These are all good reasons, and we wish Wall the best. I ran a community site called
Netslaves.com
for several years and doing so can run one ragged. One can almost get addicted to the fact that at any moment during the die, an exciting (or disgusting) new post can appear requiring immediate action. But over time, this kind of intensity can run one ragged, and one rarely is aware of the true opportunity cost of spending so much time hunched over one's keyboard until it's already too late.
The worst part of closing such a site is that one is almost guaranteed to catch a fair share of abuse from one's "loyal" community members, who seem to believe that you belong to them. Everybody needs to have a life and I'm glad that Aaron Wall finally decided to start living his while he's still comparatively young.