Yahoo Closes WebJay.com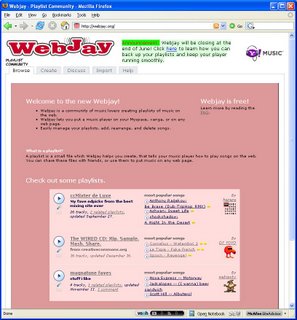 WebJay.com
was a site created by Lucas Gonze that allowed users to share playlists. In a sense, it let people assemble their own virtual jukeboxes: a cute enough idea for Yahoo to acquire it in early 2006, making Gonze a very rich man. WebJay.com never really seemed to gain traction and never broke Alexa's Top 100,000 list. In the wake of the infamous "
Peanut Butter Manifesto
," issued internally last year, which excoriated Yahoo's management for "spreading itself too thin," WebJay.com was given the deep-six in May of 2007, and will close at the end of the month.
Labels: Music Sites, Yahoo