Haunted Web Radio Stations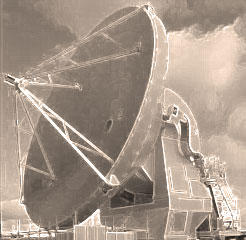 Having your own home radio station has long been a popular fantasy for many people, and so it was only natural that with the advent of cheap streaming audio software such as Shoutcast, thousands would launch their own radio stations on the World Wide Web.
While many of these stations survive, more than a few have faltered and fallen by the wayside, becoming Ghost Sites whose streams are frozen in time. Mr. Serge Menard, a Web Archeologist located in Canada, has made an extensive study of these sites, and we are very grateful that he has shared his list with Ghost Sites. Here is a small sampling of Mr. Menard's recent findings: we hope to provide more in the future.
BruceWang
http://www.brucewang.com
This site, started by a popular Japanese DJ, updated its live streams frequently in 2001, intermittently in 2002, but has been effectively inert for the last 30 months.
Channel 95 KROK
http://www.krok.com

The companion Web site for this small broadcaster in Leesville, Louisiana, appears to have last been updated in
late 2003
.
DestroyRadio.com
http://www.destroyradio.com
In a peculiar kind of protest against the U.S. Copyright Office, this site voluntarily took itself off the air several years ago. What it left behind is
a protest page
most of whose links are broken and
a News page
last updated in early 2002.
DJ BeauxVinyl
http://dj-beauxvinyl.1-up.com

DJ BeauxVinyl, which provided "live webcasts of ambient alternative country downtempo honky skronk trip hop. you know, fer country urban folk" launched in late 2000 and lasted until May of 2004.
Eighties Retro Radio
http://home.austin.rr.com/liveradio/80s/
This Web-based station launched in March of 2002 and was instantly popular (what is it about 80's music that's so incredibly appealing to Internet users?). But it closed its doors after Live365, its streaming provider, changed its pricing policies.
Indie Pop Radio
http://indiepopradio.com
Indiepopradio.com launched in 1999 and became a lively site whose features included a weblog, a bulletin board, contests and reviews. It closed in late 2004, after its proprietor "lost interest in it."
Orang.org (The Open Radio Archive Network Group)
http://www.orang.org

The Open Radio Archive Network Group (Orang) once hosted a wide range of user-contributed multimedia content. It was apparently hacked in early 2003, and has been disabled for the past two years.
Prime Radio
http://www.primeradio.co.uk
This UK-based site, which appears to have offered a single stream, launched in late 2001 but has lately disappeared, yielding a "Web site currently being held for client" message.
SuperSphere
http://www.supersphere.com
This stylish countercultural portal, whose sections include a streaming station, has not been updated since late 2001.